Yorkies are small, sprightly dogs that require a lot of care. One question people often have about Yorkies is how often they should bathe them. In this blog post, we will answer that question and give you some tips on bathing your Yorkie.
How often should you bathe a Yorkie and why?
Yorkies are a popular breed of a small dogs, known for their long, silky fur. While this fur is beautiful, it does require some special care to keep it looking its best. One important part of Yorkie care is regular bathing.
How often you need to bathe your Yorkie will depend on a number of factors, including the dog's activity level and the type of shampoo you are using. However, most experts recommend bathing a Yorkie at least once a week. This helps to prevent the build-up of dirt and oils, which can make the fur look dull and matted.
In addition, regular bathing can also help to reduce the amount of shedding. While some shedding is normal, excessive shedding can be a sign of poor health or grooming habits. By bathing your Yorkie on a regular basis, you can help to keep its fur healthy and beautiful.
Shampoo and conditioner should you use on a Yorkie
Yorkies have long, silky hair that can easily become matted and tangled. To keep their coat healthy and looking its best, it's important to use the right kind of shampoo and conditioner. Mild dog shampoo is a good option for Yorkies, as they have sensitive skin.
You may also want to consider using a conditioner designed specifically for dogs with long coats. This will help to detangle the hair and prevent matting. When shampooing and conditioning your Yorkie's coat, be sure to avoid getting any product in their eyes or ears. Rinse thoroughly and then dry their coat with a towel or blow dryer set on low heat.
How to properly bathe a Yorkie?
Yorkies are one of the most popular breeds of dogs, and it's no wonder why. They are small, intelligent and full of personality. However, their long coats can require a bit more grooming than other breeds.
Here are some tips for properly bathing a Yorkie:
Start by brushing your dog's coat to remove any tangles or mats. This will make the bathing process easier and help to prevent your dog from getting uncomfortable.
Fill a sink or tub with warm water and wet your dog's coat thoroughly. Be careful not to get water in their ears or eyes.
Apply shampoo to your dog's coat and work it in thoroughly. Be sure to avoid their face and ears.
Rinse your dog's coat thoroughly until the water runs clear.
Apply conditioner to your dog's coat and work it in thoroughly. Again, be sure to avoid their face and ears.
Rinse your dog's coat thoroughly until the water runs clear.
Gently towel dries your dog's coat and brushes it out again. Allow them to air dry or use a blow dryer on the lowest setting. Avoid getting the blow dryer too close to their skin. Bathing your Yorkie doesn't have to be a difficult task.
By following these simple steps, you can help keep their coat healthy and looking its best.
What to do if your Yorkie gets wet and muddy?
Depending on the extent of the mud and water, you may be able to simply let your Yorkie air dry. If they are only slightly damp and muddy, you can put them in a well-ventilated room or outside on a leash so they can move around until they are dry.
If they are significantly wet and muddy, you will need to give them a bath. Be sure to use a dog-specific shampoo and conditioner to avoid irritating their skin. You should also avoid getting water in their ears, as this can lead to an infection.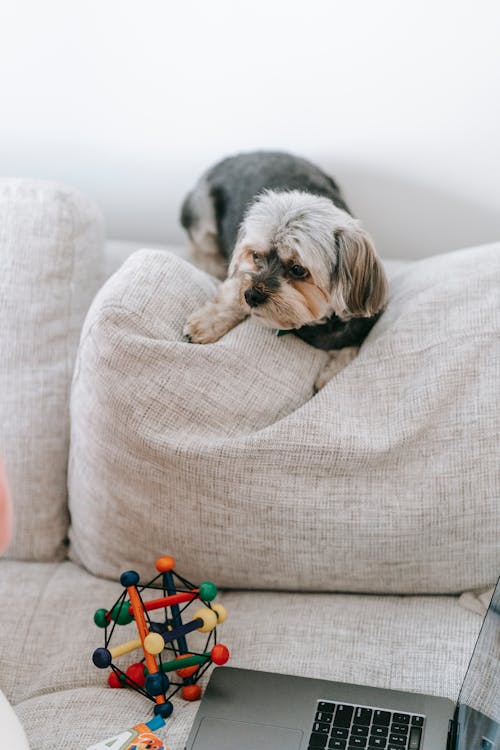 After the bath, towel dries your Yorkie as much as possible before placing them in a warm room or using a blow dryer set on low heat to finish the job. Regardless of how wet and muddy your Yorkie gets, it is always important to brush their fur afterward to remove any tangles or matting.
Tips for keeping your Yorkie clean and healthy
1. Brush your Yorkie's teeth regularly. Good oral hygiene is important for all dogs, but it's especially important for small breeds like Yorkies, who are prone to dental problems. Use a toothbrush designed for dogs, or a finger brush, and toothpaste made specifically for dogs.
2. Give your Yorkie regular baths. How often you need to bathe your dog depends on his activity level and coat type. A general rule of thumb is to give him a bath every two to four weeks. Use a mild dog shampoo and make sure you rinse all the soap out of his fur.
3. Keep his nails trimmed. Overgrown nails can be painful for your dog andcan cause problems with his feet and legs. Ask your veterinarian or groomer to show you how to properly trim your dog's nails.
4. Clean his ears regularly. Yorkies are prone to ear infections, so it's important to keep their ears clean and dry. Use a cotton ball dampened with warm water to wipe the inside of your dog's ears, being careful not to insert the cotton ball too far into the ear canal.
5. Check his eyes daily. Yorkies are also prone to eye problems, so it's important to check their eyes daily for any discharge or redness. Wipe any discharge away with a clean cloth and see your veterinarian if you notice any changes in your dog's eyes.
Bottom line
Bathing a Yorkie too often can strip the coat of its essential oils and cause skin problems. How often you should bathe your Yorkie depends on many factors, including the dog's breed, age, and activity level. If you're not sure how often to bathe your Yorkie, consult with your veterinarian or a professional groomer.